ALLOY
FCR200SC.8015
100Mbps Standalone/Rackmount Media Converter
The FCR200SC.8015, a FCR200 Series Fast Ethernet Media Converter, can be used 'Standalone' or installed in an Alloy DCR12 Series Media Converter Chassis, and has a 100Base-TX and a 100Base-FX 1550nm singlemode SC port. Fibre cable range is up to 80Km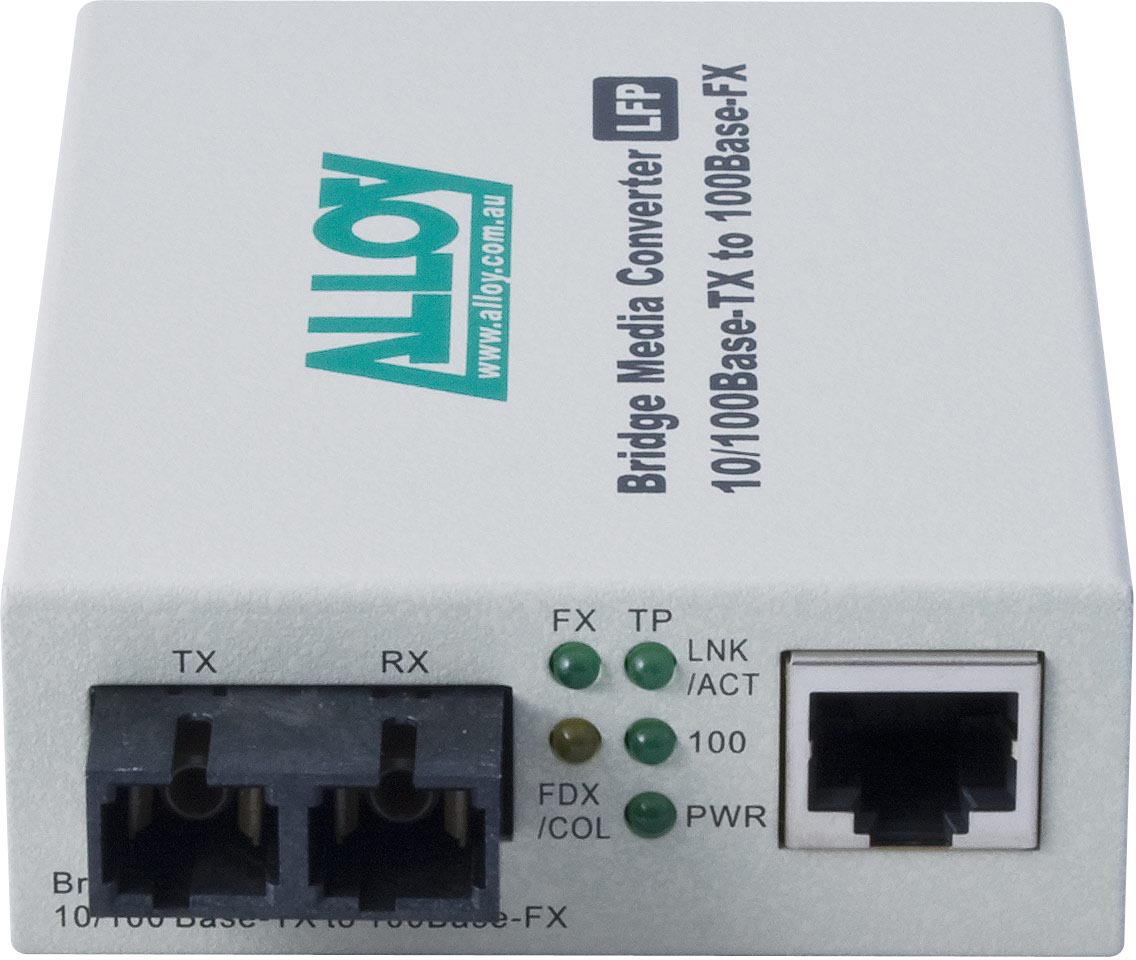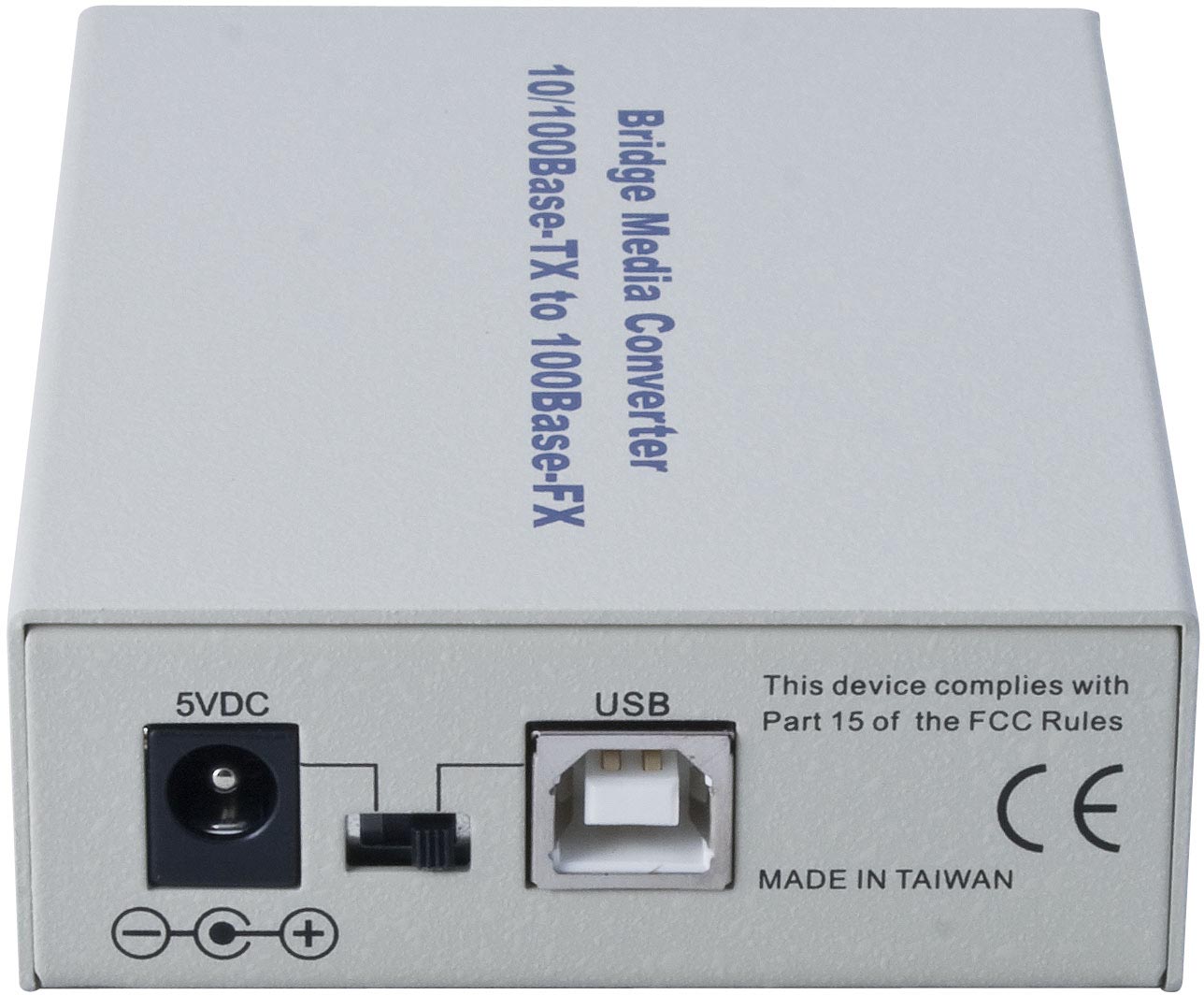 ALLOY
FCR200SC.8015
100Mbps Standalone/Rackmount Media Converter
The FCR200SC.8015, a FCR200 Series Fast Ethernet Media Converter, can be used 'Standalone' or installed in an Alloy DCR12 Series Media Converter Chassis, and has a 100Base-TX and a 100Base-FX 1550nm singlemode SC port. Fibre cable range is up to 80Km
Description
The FCR200SC.8015, a FCR200 Series Fast Ethernet Media Converter, can be used 'Standalone' or installed in an Alloy DCR12 Series Media Converter Chassis, and has a 100Base-TX and a 100Base-FX 1550nm singlemode SC port. Fibre cable range is up to 80Km
The FCR200SC.8015 is a dual purpose Fast Ethernet Media Converter. It can be used as a standalone discrete device, or can be installed as a Media Converter Module into any Alloy DCR12 Series 12-slot Media Converter Chassis. Whichever mode the FCR200SC.8015 is used in, it is a flexible solution ideal for a wide variety of media conversion applications in Fast Ethernet network environments. With dual 100Base-TX auto-sensing 10/100Mbps RJ-45 and 100Base-FX SC terminated singlemode ports utilising the 1550nm wavelength (1300nm models also available), the FCR200SC.8015 is an ideal solution for UTP/STP copper to Fast Ethernet singlemode fibre media conversion tasks. The RJ-45 port supports Fast Ethernet and Ethernet UTP/STP links at up to a 100 metres range, and the 100Base-FX port has a maximum fibre cable range of up to 80 kilometres.
The FCR200SC.8015 is a model from Alloy's FCR200 Series of Dual Purpose Media Converters. As mentioned above, these Converters can be used 'standalone' or installed in an Alloy DCR12 Series Media Converter chassis. Models in the series support most types of Fast Ethernet media conversion, including 10/100Mbps RJ-45 copper to 100Base-FX multimode fibre (with LC, SC, ST or MT-RJ connectors, maximum fibre cable range of 2Km), 10/100Mbps RJ-45 copper to 100Base-FX singlemode fibre (SC connectors; 5, 20, 40, 60, 80 and 100Km ranges with individual models supporting 1300nm or 1550nm wavelengths) and 10/100Mbps RJ-45 copper to 100Base-FX WDM singlemode/singlecore fibre (SC connectors with 20, 40, 60, 80 or 100Km range, with send and receive datastreams mutliplexed over a single fibre core). All models in the range are housed in a compact, highly durable all-metal case.
When used in 'standalone' mode as a discrete Media Converter device, all models in the FCR200 Series can be powered either by an external plugpack (supplied with the Converter), or via a supplied USB cable which can derive power from any v1.1, v2 or V3 USB port. All FCR200 Series models have comprehensive LED suite enabling status monitoring of the Converter, and also a DIP Switch array on the side panel which is used to manually set LFP status (see below) and/or link speed/duplex mode settings. The RJ-45 port on all models is auto-sensing MDI/MDIX, with speed, duplex mode and DTE/DCE mode automatically sensed and set.
A particular feature to note for all FCR200 Series Converters is their support for Link Fault Passthrough (LFP) in both Far-end-Fault (FEF) and Forced Modes (FM). LFP allows these Media Converters to monitor both the fibre and copper RX ports for signal loss. In the case of a loss of RX signal on one media port, the Converter will automatically disable the TX signal to the other media port, thus passing through the link fault LED status. FEF mode enables the Converter to stop sending a link pulse to a LFP capable Converter on the other end of the cable; the link partner Converter will synchronously stop sending data, preventing loss of valuable data transmitted over an invalid link. Combining FM and FEF LFP functions supports troubleshooting and network security capability, as both end devices can be notified of a loss of fibre link and a managed switch connected to a FCR200 Series Converter can be configured to disable the link and notify administrators of the event.
Features
| | |
| --- | --- |
| | FCR200SC.8015 model: Fast Ethernet copper to 100Base-FX 1550nm singlemode fibre media conversion - 80Km range |
| | Dual Purpose FCR200 Series - use 'standalone' or install in a DCR12 Series Media Converter Chassis |
| | FCR200 Series: Fast Ethernet copper to multimode, singlemode and WDM Media Conversion solutions |
| | FCR200 Series: models with copper to 1300nm and 1550nm singlemode fibre support |
| | LC, SC, ST, and MT-RJ fibre connectors supported on individual FCR200 Series models |
| | Up to 100 kilometres fibre range supported with FCR200 Series Converters |
| | Easy 'Slide-in, Hot Swap' installation into DCR12 Media Converter Chassis systems |
| | Supports Forced and Far-end Fault mode Link Fault Passthrough (LFP) |
| | All FCR200 models powered by external plugpack or via USB connection |
| | Compact, rugged all-metal case |