Patton
SN46618BS4S24V
IP-enable all legacy voice/fax systems with one Enterprise-class VoIP Gateway-Router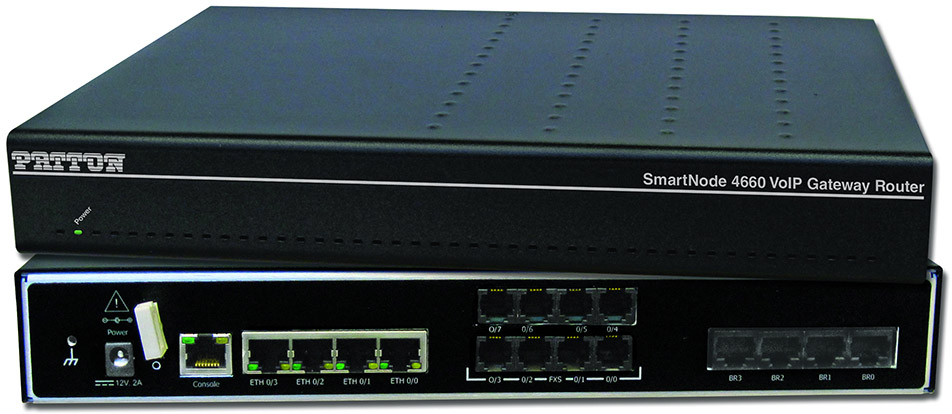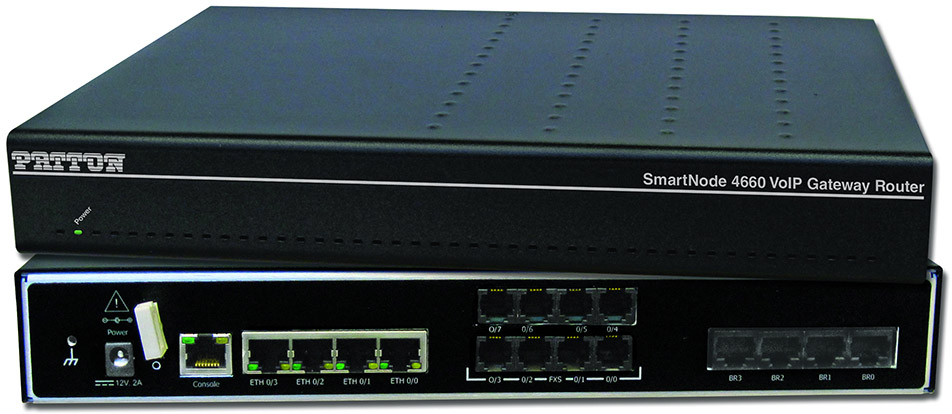 Patton
SN46618BS4S24V
IP-enable all legacy voice/fax systems with one Enterprise-class VoIP Gateway-Router
Resources
Description
IP-enable all legacy voice/fax systems with one Enterprise-class VoIP Gateway-Router. 8 to 24 concurrent VoIP calls, the SN4660 connects ISDN-PBX, analog fax and phone—even audio-intercom systems—with advanced IP telephony services and the PSTN.
The SmartNode™ 4660 VoIP Gateway-Router offers flexible combinations of ISDN BRI, analog FXS/FXO, and Ethernet/IP interfaces to deliver a unique solution allowing the Enterprise to IP-enable legacy ISDN-PBX and analog phone/fax/answering machine and audio-intercom systems.
Providing 4 Ethernet, 2 to 8 BRI, 4 to 8 FXS, and up to 4 FXO ports, the SN4660 inter-connects any Ethernet switch, ISDN PBX, analog equipment or IP-data network to support 8 to 24 simultaneous VoIP calls using SIP, FXS/FXO or BRI signaling. The 10/100 Ethernet uplink provides seamless WAN access via any existing cable, ADSL, VDSL, EFM, or fiber-optic modem.
Like every SmartNode™, the SN4660 supports every industry-standard CODEC to deliver toll-quality voice on every call. Adding session border controller capabilities, the SN4660 includes IP transcoding for up to 12 SIP channels. The Unified Communications Agent™ (UCA) provides any-to-any multi-path switching (simultaneous SIP, H.323, ISDN, and POTS calls with routing and conversion between TDM/PSTN and IP/Ethernet networks—plus T.38 and SuperG3 FAX). VoIP-over-VPN with voice encryption provides secure voice and data via IPsec with AES/DES strong encryption and automated keying via Internet Key Exchange (IKE). In addition, advanced call-router functionality includes least-cost call routing with flexible dialed-number plan support.
The SmartNode survivability suite combines PSTN fallback, SIP Registrar and IP-link redundancy to ensure business continuity if the IP network fails. Patton's DownStreamQoS™ delivers the advantage of clear, uninterrupted voice-and-data communication. Furthermore, SmartNode's unique high-precision clock delivers first-line IP telephony service in demanding ISDN and DECT environments with reliable FAX and modem performance. In addition, SmartNode delivers a smooth transition to VoIP with strong number portability support accepting incoming calls from the PSTN throughout the VoIP service provider's number porting process.
Preserve investments in legacy phone equipment while taking the next steps toward unified communications with the SN4660 Gateway-Router.
Features
Flexible ISDN BRI and FXS/FXO Port Combinations
Connect analog phone/fax, answering machines, intercom stations, and ISDN-PBX systems with combinations of 4 to 8 FXS, up to 4 FXO, and 2 to 8 BRI interfaces.
Proven Interoperability
SIP interop with major IP PBX, softswitch, and VoIP service providers. Over 100,000 SmartNode deployments worldwide. ISDN/PSTN compliance in nearly every country.
QoS and Security
Deliver secure, toll-quality voice communications with Patton's DownStreamQoS™ with adaptive traffic management and shaping—plus secure voice-over-VPN with AES/DES strong encryption.
Transparent Telephony Features
Complex number manipulation and mapping for seamless integration with existing infrastructures, CLIP, CLIR, hold, transfer and much more.
Fax that Works
T.38, SuperG3 Fax, enhanced G.711 fax and modem bypass provide reliable fax over VoIP networks using traditional analog or IP-based fax end stations.
High-Precision Clock
Delivers DECT PBX interoperability and reliable fax performance.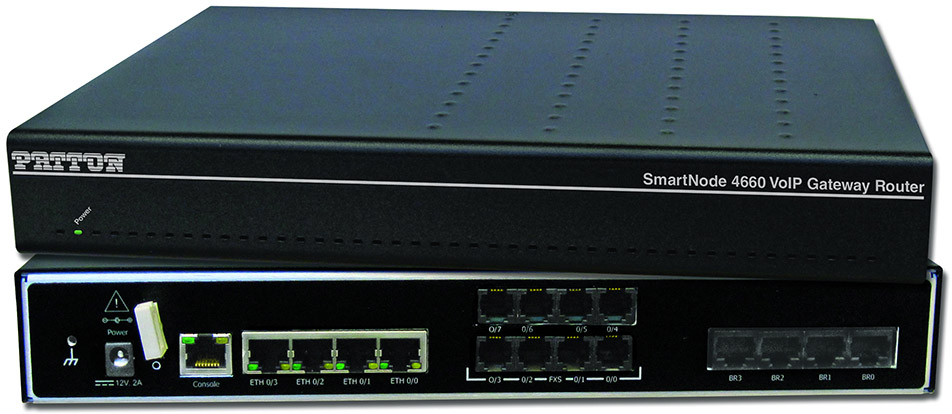 Related Products